Every time a toilet is flushed, no one really cares where it ends up but if left untended to, that flush could lead to serious health issues. That is where NWSC's Sewerage Services Department (SSD) comes in. The Sewerage Services Department under Kampala Water (KW) is responsible for operation and maintenance of the sewerage network, treatment plants as well as making new sewer connections and/or extensions in Kampala. The SSD currently operates two Sewage Treatment Plants (STP) in Bugolobi and Lubigi; the former being a conventional treatment plant while the latter is based on Waste Stabilization Ponds (WSP).
UNVEILING MODERN SEWERAGE WORKS
The implementation of the sanitation projects requires heavy investment never the less NWSC has embarked on refurbishing and building infrastructure projects in Kampala and across the country. The support from development partners and the government of Uganda is very crucial in ensuring the success of our projects.
The sanitation projects for Kampala Metropolitan area.
The sewerage facilities for Kampala were constructed in the 1940's in the colonial era within the central business district. In 2003 NWSC commissioned the preparation of the sanitation masterplan for Kampala city which proposed a series of interventions over a 30year period. The plan recommended the construction of a new modern waste water treatment plant at Nakivubo, replacement and upgrading of the existing sewer networks, extension of the sewer network in the new catchments and the gradual implementation of additional waste water treatment capacities at Kinawataka, Lubigi and Nalukolongo. The plan was updated in 2008 and the first implementation was planned to be in two stages.
The Lake Victoria Protection 1 Project
LVP 1 was implemented between 2008-2015 with a cost of EUR15.3Million funded by KFW, EU and GoU. The key components included; -Rehabilitation, modification and extension of the sewer networks. -Implementation of new combined waste water(5000m3/day) and feacal sludge (400m3/day) treatment facility at Lubigi for the North West catchment area of the city. This was successfully completed and commissioned in 2014 and is operational.
Kinawataka Pre-treatment Plant and Pumping Station
The project component involved construction of an advanced Pre-treatment plant with a design capacity of 9,000m3/day and pumping station in Kinawataka Catchment for treatment of Sewage from the eastern parts of Kampala. The Kinawataka project was completed in 2019 and is currently operational.
Lake Victoria Protection II Project
This project was funded by African Development Bank (AfDB) EUR65.5Million (loan), KFW EUR10Million (grant) and the Government of Uganda EUR66.3Million. It involved the following key components.
Nakivubo Wastewater treatment Plant
The Nakivubo WWTP project component involved
construction of an advanced New Waste water Treatment
plant of capacity 45,000m3/day in the Nakivubo catchment to serve the central business district of Kampala.
The liquid/wet line of the plant entailing the sewage
treatment processes was completed in 2019 and is currently under operation. Construction of the gas production line entailing the Digesters and Gas Holding Tank is also complete and is currently under technical commissioning by the contractor OTV.
Nakivubo and Kinawataka Sewers
The Nakivubo Sewer Network component involved laying 17kms of Sewers (diameters ranging from 200mm to 1500mm) in the Central Business District of Kampala while the Kinawataka Sewer Network component involved laying trunk sewer line of length 13km (diameters ranging from 200mm to 600mm) in the eastern parts of Kampala including Ntinda, Nakawa, Banda, Kyambogo, Mbuya, Mutungo and
Butabika as well as pumping mains (diameter 500mm) to transfer sewage from Kinawataka Pre-treatment plant to Nakivubo WWTP. The sewers project was completed in 2019, and is currently operational.
To decentralize wastewater treatment in Kampala, Nalukolongo Faecal Sludge Treatment Plant is planned to serve the Western part of Kampala while Kajjansi waste water treatment Plant is planned to serve the Southern part of Kampala.
NAKIVUBO WASTEWATER
TREATMENT PLANT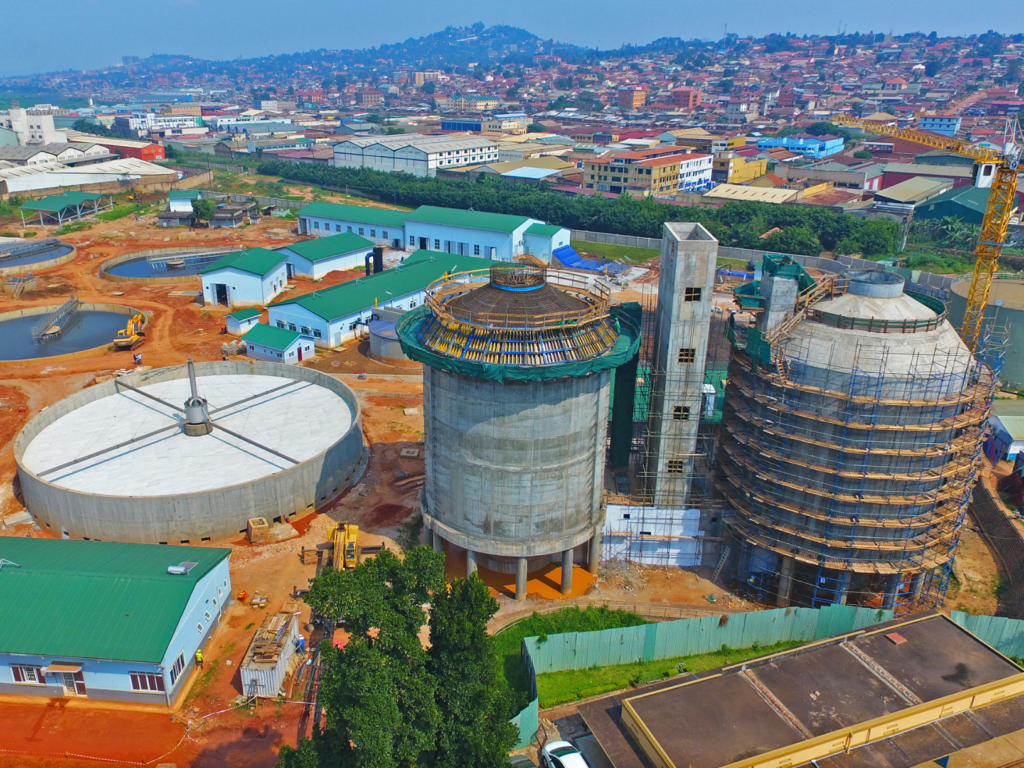 People Equivalent:380,000 P.E

Plant Capacity:45,000 m

3

/day

Biogas Production:5,940m

3

/day

Power of Energy recovery Unit:630 kW

Final Site Area:79,000 m

2
Flow separation structure
DN1500mm-City Center sewer

DN 1200mm-Kinawataka Pre-

treatment plant

DN800mm-Old sewer from

Naguru through Shoprite to Irec




and then Nakivubo WWTP

DN800mm- Kibira booster

Nakivubo Channel Intake
Pretreatment-Screening Cont'd
40mm and 6mm screens also have two

modes of operation ie Head loss and timer

Screw conveyors to convey the screenings to a

screen press

Screen press cleans the screenings to remove

organic matter and compacts them to reduce

the volume
Online water quality monitoring
To control the quality of inlet

raw water, pH, conductivity,

temperature, hydrocarbon(oil)

content are continuously

monitored by online sensors

Methane(CH

4

) sensors are

installed in inlet chambers to

check /detect presence of this

gas
Pretreatment-Degreasing and Degritting
Screened wastewater flows to 2 parallel

channels equipped with 1 travelling bridge

and each with a coarse bubble aeration

system

Sand is removed by means of an airlift system,

and is conveyed in an open channel to a sand

pit where it is pumped by two submersible

pumps to 2 grit washers

Grease is removed by a scum shield to a sump

and later pumped to the digesters
Automated 100mm, 40mm and 6mm screens

Modes of operation: Head loss and Timer

mode

Conveyer belt that conveys screenings to a

skip that's later removed
Pretreatment -Degritting Cont'd
Sand is pumped to grit washers which

wash the sand by use of process water and

a pendular agitator to remove organic

matter.

Washed sand is conveyed by means of an

extractor conveyor to the skips
Looking For A Reliable & Dedicated Partner?