Our Geographical Growth (Since 1972)
The NWSC was established in 1972 with operations in the 3 towns of Kampala, Jinja and Entebbe. Over the years, we have expanded our geographical coverage to reach more Ugandans. By 2013, the Corporation was operating in 27 towns. The period 2013 to 2020, witnessed a rapid growth in coverage from 27 to 258 towns. NWSC took over 5 additional towns in the current Financial Year.
Najjembe, Magale, Bukwiri, Banda, Kasambya, Misango, Kyankwanzi, Kashaka, Nyakinoni, Nyanga, Kirima, Bigodi, Katalyeba, Shuuku, Nyamunuka, Itojo and Kanyareru
Lutuuku, Kyambi, Namibirizi, Mateete, Mitete, Ntuusi, Lwebitakuli, Lugushuru, Gombe, Kyabadaaza, Okollo, Koboko, Mayanga-Omuribiri, Kanyabwanga Omukabanda, Bitereko-Iraramira, Kati-Rwempungu, Kisiizi-Kengyera and Sheema.
Nkonkonjeru, Buikwe, Busembatya, Luuka, Kisozi, Nakasongola, Kayei Landing Site, Omogo, Kubala, Okpkotani, Butebo, Anaka, Amach, Dokolo, Serere, Patongo, Kalongo, Sipi, Pallisa, Ngora, Kumi, Yumbe, Moyo, Kotido, Kaabong, Katerera, Kabira, Nyeihanga, Kagongi, Mugusu, Kijura, Kamwezi, Rwenkobwa, Kahunge, Kabuga, Kasagama, Kaliro, Katovu, Kinuka, Nyabihoko, Sanga, Kikatsi, Katwe, Harukungu, Rukoni, Kyazanga, Lwengo and Lwengo-Kinoni.
Kira Municipality, Nansana TC, Buloba, Kawuku, Abaita ababiri, Bugembe, Bukakata, Mpugwe, Sembabule, Mpigi, Rakai, Bukedea, Kachumbala, Unyama, Nagongera, Bubuto SC, Bunanbwana SC, Sisuni SC, Butiru TB, Manafwa, Lirima, Lwakhakha, Buwoni SC, Kwapa SC, Mella SC, Osukuru SC, Pajule, Nyapea, Pakwach, Busia, Kapchorwa, Kyabugimbi, Kyenjojo, Kashenshero, Mitooma, Kinoni, Kibiito, Rwimi, Rubona, Katebwa, Kicucu, Rugendabara, Kasunga-nyanja, Hima, Nyakigumba, Muhanga, Ishongororo, Omungyenyi, Rubaare, Kagarama, Rwentobo, Rwashemeire, Ruhama, Kitwe, Kikagati, Mirama hills, Irembezi, Rutookye, Buhweju/Nsiika, Kabale-Kabarole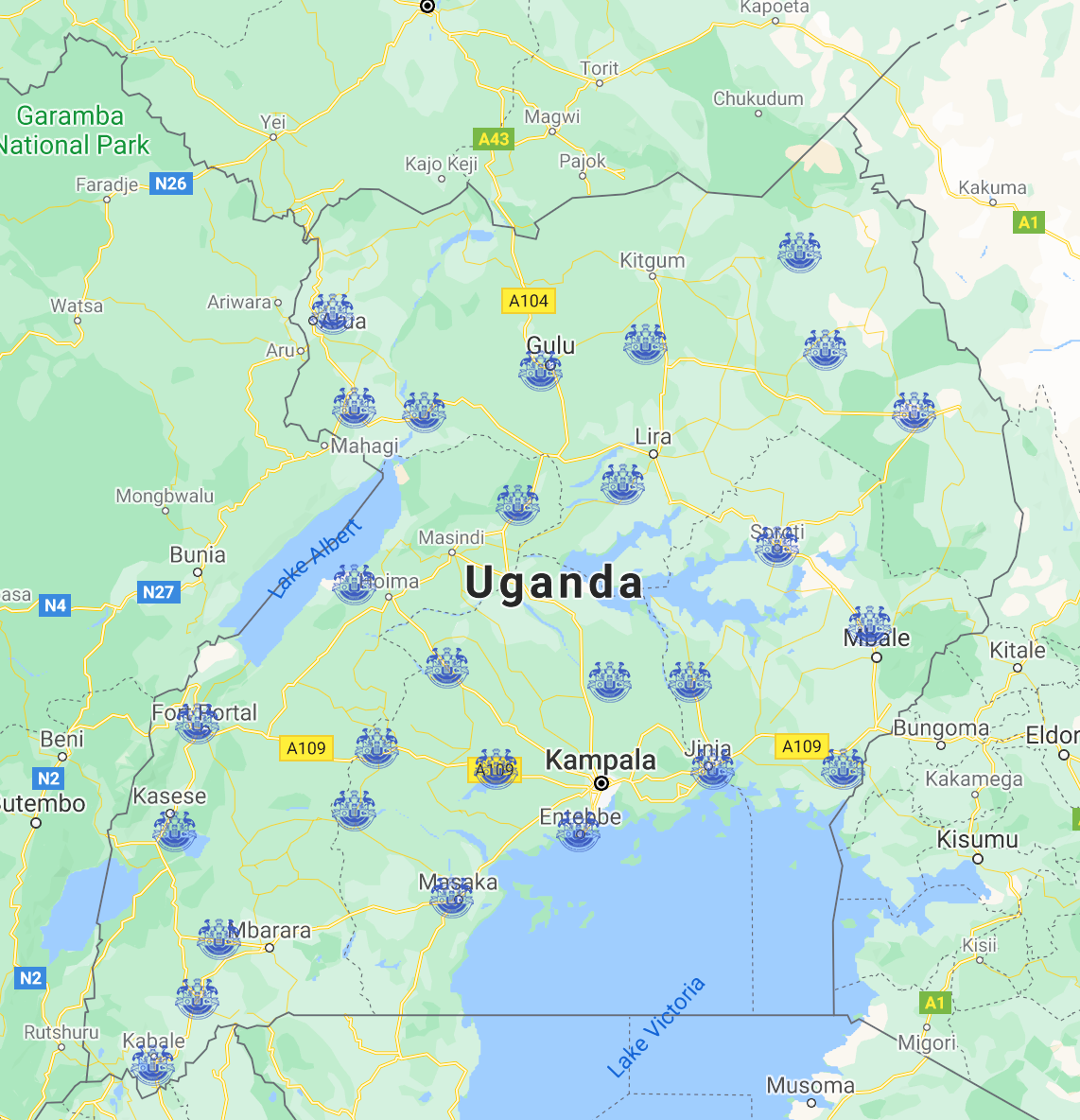 Kakiri, Buwenge, Kagoma, Bugiri, Naluwerere, Buwuni, Kalungu, Lukaya, Buwama/Kayabwe, Zirobwe, Semuto, Kapeeka, Nakaseke, Kiganda, Kamuli, Mbulamuti, Kyotera, Sanje, Kakuuto, Mutukula, Ibuje, Wandi, Budadiri, Sironko, Atiriri, Kalaki, Moroto, Matany, Kangole, Adjumani, Ryeru, Magambo, Bugongi, Rubirizi, Rubindi, Bwizibwera, Biharwe, Kaberebere, Kichwamba, Ntungamo, Rushere, Kiruhura, Kazo and Mpondwe.